An engine lies as memorial to the crew of Anson N9857 of No.19 OTU, whose lives were given for their country and the war campaign on 13th April 1941 in the midst of one of the severest periods of snowstorms recorded.
Ansons were used in the abinito stages of the OTU to provide Navigation and Wireless Op training for the aircrew.

Engine failure was a common place event and could have been the cause of N9857 to impact on the hills above Inchnadamph. The view of the crash site could indicate that the aircraft was perhaps in a slow decent. However, one has to remember that in cloud, Navigation was by DR with bearings provided by HF ground stations.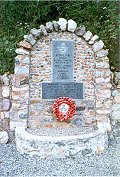 The crash was not located until later in May of that year when the snow line receded. It is reported that one of the crew may have survived the crash but in protection of his colleagues he also became victim of the adverse weather. The site is in one of the most desolate areas of the highlands, and given there was no specialised access the crew were buried on site and a cairn placed over their bodies. (There was no Mountain Rescue service in those days.)
After the war ended, the War Graves Commission visited the area and erected a memorial in the Cemetery at Inchnadamph Kirk.