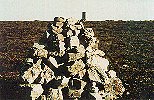 On A cross country exercise from RAF Kinloss Whitley P5006 crashed on Ben Aigen ESE of Rothes, 24th September 1940. I am indebted to Mrs Rhona Hay for the use of her pictures and material contributing to the website.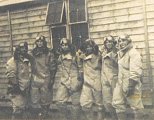 Flt Sgt C H Ashley
Sgt D S Proudfoot
Sgt N R Foley
Sgt E S Millard
Sgt P H Lucas DFM
Sgt I D S E Hay.
Rhona has also provided an extract from the letter of the late Mr R Whitehead who was based at RAF Kinloss and was a member of the party sent to the site to recover the crew and aircraft. "I have forwarded to you with the consent of his widow, who said that she thought that he would have been very pleased to know that it was included."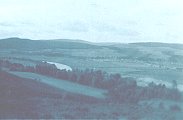 Mr Whitehead's letter:
'' Whilst the crew were not known to me personally, I was a member of a ground crew which had the very traumatic job of going out to the crash and collecting what was left of the bodies of the air crew and taking them back to Kinloss.
I was 18 at the time and had been in the service for 11 months and it was my first air crash and it made a terrible impression on me and really brought home the futility of war ! ''
Rhona has kindly allowed more information to be added. Her words follow;
"For myself, although I know that it is extremely unlikely, I hope that other descendants or relatives of the crew access this website and learn that a memorial was built to the crew. The original short mention in ' Airmail ' led to Mr Whitehead contacting me to say how glad he was that a memorial had been built. So I suppose that although unlikely it is not impossible that relatives should access the website. Hopefully, it will also be of interest to others.

I am sending as a separate message a short extract from Ian's mother to his school telling them of his death. A copy was sent to me by the archivist of Bloxham School, Major Shaw McCloghry, It is almost certainly not directly relevant but it does show the attitude of the time.
The extract from the letter;
'' Dear Capt. Dewey,

I would like you to know the sad news that my son, Ian Hay, was killed in action at the end of September [1940]. He was a Sergeant in the R.A.F. and had just finished his training as a Wireless Operator and Air Gunner. The machine crashed in the mountains near Elgin in Scotland and the whole crew of six were killed. He loved the life in the R.A.F. and was very keen on his work, so it is very hard that he had to go so early. ... I would like to take this opportunity of thanking you for all you did for him at Bloxham. You made him fit to serve and die for his country, '

Yours sincerely,

Sydney Hay (Mrs) ''