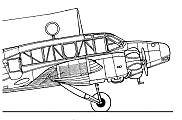 The Anson entered service with the RAF in 1936 and, on the outbreak of war, formed the backbone of Coastal Command. The "Annie" might have earned the epithet "faithful", but with a top speed of less that 190 mph, a range of about 700 miles, and a bomb-load of 360 lbs, she was hardly a fast woman! However, she had – for the time – an advanced retractable undercarriage, even if it was manual and required 160 turns on the wheel.

Nevertheless, "Faithful Annie" proved her worth as a reconnaissance and anti-submarine aircraft, with 500 Sqn attacking its first U-boat on 5th September 1939. Plt Off Harper of 206 Squadron earned a DFC for his attack on a surfaced U-boat on the 3rd December in the same year.

Incredibly, the Annie had success in air-to–air combat: in September 1939, an Anson of 269 Sqn shot down a Dornier Do 18. On 1st June 1940, Plt Off Peters of No 500 (County of Kent) Squadron led a patrol of three Ansons to Dunkirk to support the evacuation of the BEF. The flight was attacked by nine Me 109s and two Ansons were sufficiently damaged to force them to return to base. Peters remained on station, and made himself a very difficult target by slow, evasive manoeuvres at wave-top height. One Me 109 overshot his attack and Peters downed it with his nose gun; a second 109 was then shot down, and a third returned to base with severe damage. Peters returned safely to base – with just one bullet hole in his aircraft. Annie had truly proved herself "faithful", and Peters was awarded a well-earned DFC.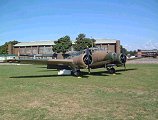 It was to mark this feat that the Imperial War Museum at Duxford decided to restore their Anson – N4877 – in the appearance and configuration of Plt Off Peter's aircraft (N9732 MK-V). N4877 had served with the RAF from December 1938 to 1978, when its Certificate of Airworthiness expired. In order to retain as much of the original aircraft as possible, the IWM chose to restore it to non-flying condition. However, this still required repairs to the mainplane, installation of a representative gun turret and bomb-bay fittings, replacement of the metal tailplane with the appropriate wooden structure, and finally the replacement of the smooth "Oxford" engine cowlings with earlier, helmeted cowlings. The result is superb and a credit to the IWM engineers – many of them volunteers – who worked on the aircraft. (click image to enlarge)

The IWM generously offered the facility for CCMAA and other Anson-associated personnel to attend the roll-out. Led by Sir John Curtiss – who actually owned his own Anson in 1965 – eleven Anson aircrew were able to attend.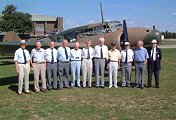 From left to right: Jack Warwick, Arnold Gentry, Bill Corless, Sir John Curtiss, Gron Edwards (who amassed 850 hours on Ansons in 1937 - 40), Jack Hoskins, Ray Tagli, Don Forryan, Eric Smith, Fred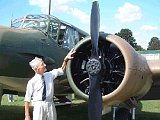 Jenkinson and Peter Rackliff. (click image to enlarge)


Jack Hoskins (ex-500 Sqn) obviously appreciated the standard of engineering. (click image to enlarge)

The roll-out was completed with an impressive Nimrod fly-past by Wayne Evison and 206/3, and an excellent buffet lunch. Guests were then free to tour the superb museum in perfect weather.

Our involvement in the roll-out achieved the Project CONSTANT ENDEAVOUR aims - we made a profit, and spread the word amongst both guests and the media present. However, undoubtedly the greatest success was to reunite eleven Anson veterans with an aircraft type on which they had amassed a total of over 3000 hours. – it made their day!

My thanks go to Mr Ted Inman, Director of the IWM at Duxford, for agreeing to our involvement, and Tracey Woods and Lizzy Dickinson for providing so much support.

(Courtesy of John Platt)