"Constant Endeavour" is the resounding Battle Honour granted to Royal Air Force Coastal Command to mark all that its men and women did, together with their comrades in the Royal Navy, to secure the seas and deny them to our enemies during The Second World War. After these many years it is a matter for some reproach that there is no national memorial to that decisive contribution, far beyond the horizons, in which nearly 11,000 airmen gave their lives. Similarly, there is little public knowledge of the successive campaigns, of which Korea and the Falklands are but two, in which our maritime airmen have engaged since then until present times.



Coastal Command's anti-submarine role is well documented but far less is known of the anti-shipping Strike Wings flying from these shores and suffering savage losses in the sinking or disabling of a million tons of shipping around enemy held coasts; nor of the high flying photo reconnaissance pilots, and the meteorological and search and rescue units on which the operations of all three services were often vitally dependent.



On a truly vast canvas of operations over the sea Coastal Command was joined by the air forces of nine other Commonwealth and Allied countries. In later years some of its tasks have also been shared with NATO allies as in the North Atlantic vigil where our deterrent forces were safeguarded against intrusion by foreign submarines during the long years of the Cold War.



The importance of the maritime air role to our island nation, with its dependence on the sea in so many economic and strategic ways, is something that the Trust seeks to bring to notice through media and academic channels both now and in the future.
Meanwhile, to repair the omissions of the past, during late 2002 a Charitable Trust was formed to mastermind the proposed commemorative tribute to Coastal Command. On Dec 6th the Chairman, Air Chief Marshal Sir John Barraclough, received a letter from HRH Prince Phillip The Duke of Edinburgh formally agreeing to be the Patron of the Trust.
We hope this later will be seen as a fitting and evocative commemoration of those who lost their lives as well as a general salute to the Constant Endeavour in defence of freedom of the men and women who served with the Royal Air Force Coastal Command and its successive formations.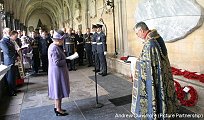 March 2004 saw the realisation of the dream. A Service of Thanksgiving and the Dedication of a Tribute to the men and women, including those from the Commonwealth and Allied Air Forces, who served with Royal Air Force Coastal Command and its successor formations took place on Tuesday 16th March 2004 at 11.30 am in Westminster Abbey. More Information.