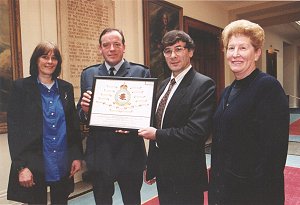 At an award ceremony in the Rotunda and Gallery at the College the Air Officer Commanding and Commandant, Air Vice Marshal Bill Rimmer was presented with the first instalment of badges. These have taken nearly four years to complete and Trust artist, Mary Denton, estimates it will take at least 10-15 years to reproduce the rest of the collection.
Picture L-to-R. Mary Denton, Trust artist, AVM Bill Rimmer RAF, Commandant RAF Cranwell, Charles Ross, Chairman RAFHT, Mrs Jean Buckberry chief librarian RAF College Cranwell.
The badges are painted on to Goatskin Parchment paper using 23.75 carat gold leaf and gouache paints which have an excellent resistance to fading. Each page is finished with calligraphy recording all the badge's details, including a dedication specified by each sponsor.
Chairman of the Trustees, Mr Charles Ross BVMS, MRCVS, said that the object of the Trust was to make the badges more accessible to everyone.
"We will keep the originals in a special portfolio here, but we hope to transfer them onto CD-ROM once finished so that they are readily available to everybody."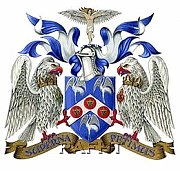 Air Vice Marshal Rimmer said that the badges are to be kept at RAF Cranwell because it is regarded as the spiritual home of the RAF.
"We feel very privileged to be able to keep them here and we will, of course, keep them in conditions of controlled temperature and light to make sure the record lasts for as long as possible. It is also wonderful to be able to rely upon Mary to provide us with a consistency of artistry between the paintings."
Of course, the final collection will not only be a record of RAF Heraldry but also, due to the dedications included by each sponsor on every page, a Memorial to those individuals who may not be remembered publicly elsewhere.