Events
2015
In April of this year a number of CCMAA members attended the annual RAF birthday celebrations at St Clement Danes in London and afterwards the Air Force Board reception in the Royal Courts of Justice.

The Association held its AGM and Annual Dinner over the weekend of the 23 and 24th May 2015 at the Quy Mill Hotel Cambridge; an event appreciated and enjoyed by all. Appreciation was expressed to Govia Thames Link Railway for their kind offer to provide 25 complimentary travel passes to and from Cambridge within their network. It was agreed that next year?s reunion would be held in the Portsmouth/Southsea area.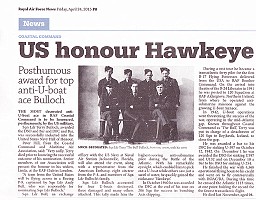 Members of Coastal Command and Maritime Air Association in conjunction with their US Navy colleagues gathered at the RAF Club in London on Saturday 25th April 2015 to honour the late Squadron Leader Terrence Bulloch DSO and bar and DFC and bar.


The late Squadron Leader Terrence Bulloch DSO and Bar, DFC and Bar, was nominated and has been successfully 'inducted' into the United States Navy Hall of Honour.
2014
The CCMAA reunion 2014 was held at Pembroke Dock over the weekend of 6th to 8th June 2014; CCMAA members were joined by the Mayor and colleagues from the Pembroke Dock Sunderland Trust for the formal dinner on the evening of Saturday 7th June 2014 at the Cleddau Bridge Hotel. During the morning members attended a short service commemorating D-Day at the Sunderland Trust Dockyard Chapel Heritage Centre in Pembroke Dock. This was followed by an invitation from Alistair and Marion Walker, owners of ex-RAF Seaplane Tender (ST441), to members to take take a short trip in the launch in Milford Haven. This was much appreciated and enjoyed by all.

More images can be seen on the news page and the 2014 reunion pages.

The association as a whole meets once a year, combining the General meeting with a weekend of visits and social gatherings.

Membership is spread throughout the UK and since attendance at the annual meeting may present difficult for some members regional "get-togethers" are also being encouraged.

We are encouraging similar Associations to combine diaries so that double bookings do not occur in the future.
If you have any questions about the CCMAA Events
Send an e@mail to the address here.

If you have any information about other Associations Events Contact the Secretary
Dates Known: